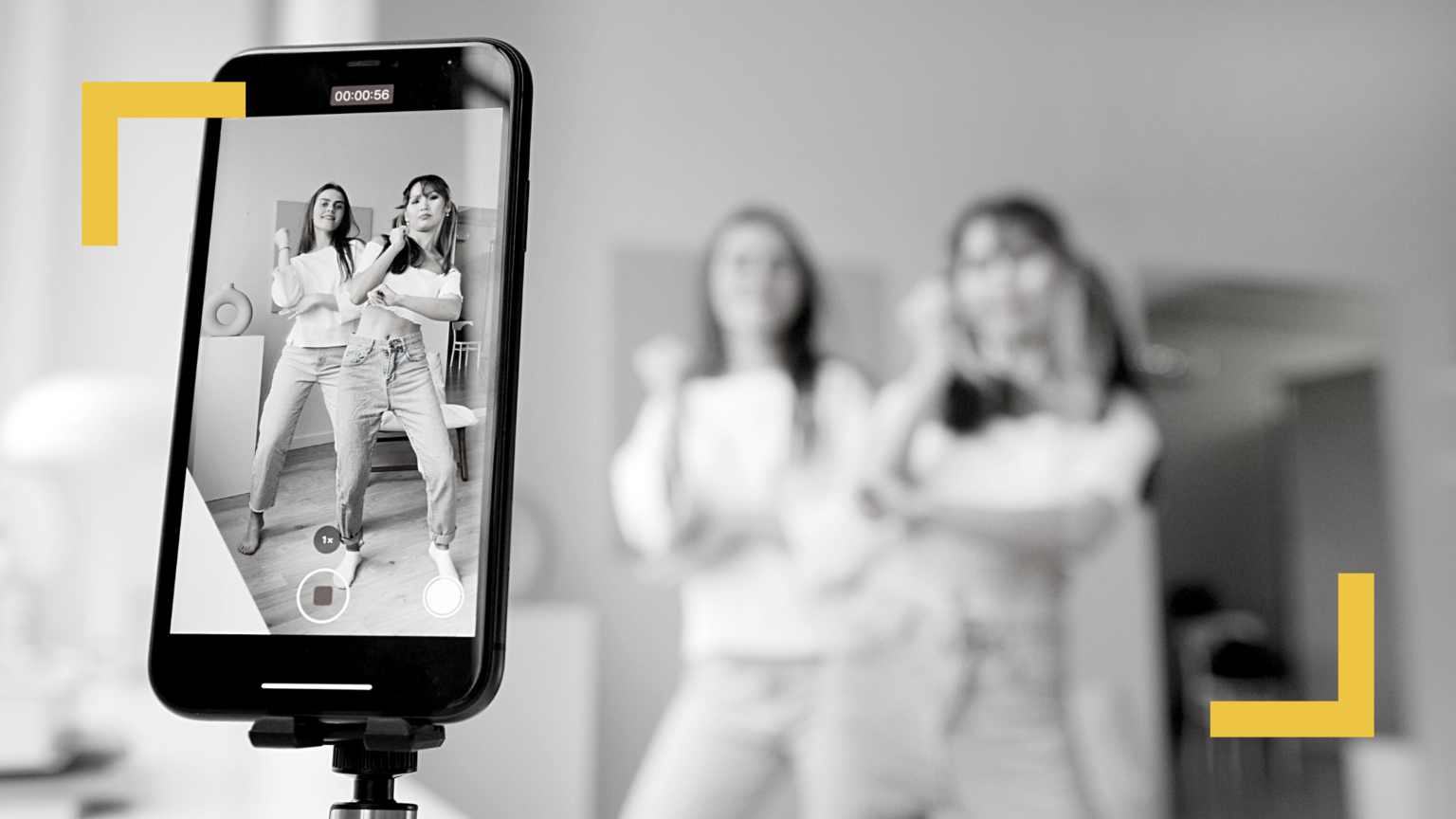 The influencer at the heart of your digital strategy
In recent years, the digital world has taken an increasingly important place in people's lives. Faced with this, companies regularly adapt their digital strategy and are increasingly interested in this new form of communication which is none other than that of influencers. In a previous article, we cited the 10 digital trends to apply in your digital strategy for 2021, including the partnership with micro-influencers.
"61% of consumers interact with an influencer at least once a day." (Source: kolsquare.com)
In just a few years, the influencer has become a major part of corporate social media communication strategies and is therefore increasingly sought after by brands looking to increase their awareness and attract new customers. That's why in this article we're going to walk you through what an influencer is, the benefits of collaborating with them, and the right way to find the one that best matches your brand image.
1. What is an influencer?
An influencer refers to any person with a strong online presence, on a specific theme, on social networks and blogs. This notoriety allows them to influence the consumption habits and purchasing behaviour of their community. They regularly publish captivating and authentic content in which he highlights the products and/or services of the companies with which they are in partnership. Nevertheless, it must consider the instructions given by companies, agencies and advertisers such as the objectives set and the type of content.
Influencers are usually ranked based on the number of followers who follow them on social media. There are 4 types:
All-stars: The highest paying celebrities with millions of followers such as Cristiano Ronaldo.
Macro-influencers: They have more than 100,000 followers.
Micro-influencers: Content creators who have between 10,000 and 100,000 subscribers.
Nano-influencers: They are followed by less than 10,000 subscribers.
The main mission of an influencer is therefore to maintain a relationship of trust with the community that he brings together in order to achieve maximum engagement. For this, they must constantly interact, communicate and exchange with them.
2. The benefits of including an influencer in your digital strategy
Influencers should be at the heart of your digital strategy because they can be a huge advantage for your business. To make sure that you are aware of the benefits of including an influencer in your communication, you can find the 4 main advantages that this can bring to your business below.
1. Increase awareness of your business
The first and most obvious benefit is being able to effectively build awareness of your brand. Indeed, your business will be more visible to its target audience, because you choose the influencer according to their public. In addition, a good influencer has a developed, engaged and active community so when they share your products or services, they will trust their comments and opinions and they will take an interest in your business much more easily. Typically, consumers trust influencer recommendations more than traditional advertisements, or even celebrity testimonials.
"58% of brands saw an increase in awareness and 54% an increase in leads and revenue, thanks to influencer marketing." (Source: blog.hubspot.fr)
2. Attract more traffic to your website
When an influencer promotes your products or services, then you not only increase your brand awareness, but it also helps drive more traffic to your website. Indeed, when a subscriber sees an influencer post, there is a good chance that they are interested in the brand and visit their website. In addition, if a company collaborates with an Instagram influencer who is followed by more than 10,000 followers, they can insert the link to his website in swipe-up in their story and their fans will be able to directly access the products or services.
Tips and positive opinions from influencers about what your business offers are more likely to increase your sales than other channels. Indeed, collaborating with an influencer allows you to increase your visibility and traffic to your website, but be sure that it also allows you to attract new qualified potential customers. Today, customers are turning more to influencers to find out what they are saying about the product/service because they feel more comfortable trusting someone outside the brand. A partnership with an influencer will therefore have more impact than a traditional advertisement. However, they must remain genuine in their recommendation, otherwise, their followers will see directly that he is promoting the product purely out of commercial interest and thus because they were paid.
"Almost one in two consumers follow influencers for their recommendations; 80% of consumers have already made a purchase following a recommendation from an influencer." (Source: Kolsquare.com)
4. Interact with your community
You might not think about it but partnering with an influencer allows you to connect with your audience in a different way. Influencers are the direct link between your customers and your brand. Indeed, when an influencer, who has a committed and active community, publishes content on their account to share their feelings about certain products of your brand, then the latter reacts quickly to also give his opinion on the brand or to ask questions. At this point, the influencer can either redirect their interested followers to your account or website or create other content such as a video in which they answer all of their audience's questions. Your SME must then be ready to interact with these people and create an affinity to lead to potential sales. Additionally, you can also share the influencer's post about your brand on your own account to get their fans to interact with you directly.
3. How to collaborate with an influencer?
2. Choose the right social network
Once you have designated your goals, you must choose which social network is the most suitable for promoting your product or service. YouTube, the video platform, has a bigger impact than just photos. It can therefore make it possible to present a product, a brand or a service more precisely than other social networks. If you want to create compelling, high-quality content that showcases your product, then Instagram, one of the most used networks, is the best fit. If you are targeting a younger audience, then you should choose Snapchat. In addition, Snapchat users visit the platform more often because they are afraid of missing the information from the stories only last 24 hours.
3. Find the influencer who best suits your brand image
It's hard to know who to choose to stay as consistent as possible with your brand identity. If you personally search social media for one or more influencers, you will never be able to consult all of the existing influencers and therefore you can potentially miss a match. We advise each company to turn to intermediaries such as agencies or online platforms. These will allow you to filter influencers and only offer you the ones that suit you best by analyzing their content, target audience, subscriber engagement, etc. Among the agencies, in Belgium, we find Be Influence, Gravity, Ribbon Agency, Influenzo. Ideally, a business should work with a micro-influencer, as they have high engagement rates and lower pay.
"The ROI of influencer marketing is inversely proportional to the size of the community: the ROI per dollar spent is 30% higher when the influencer has a community of 50,000 to 250,000 subscribers compared to a community of 250 000 to 1 million subscribers." (Source: blog.hubspot.fr)
4. Differentiate yourself from your competition
When you've done your research and finally found the influencer(s) you'll be partnering with, you should contact them, usually via email. We recommend that you keep it clear and concise when writing your request. You need to explain your concept, what you expect and what the influencer will gain in return. Indeed, a win-win partnership is always more interesting. Not to mention that you have to stand out from the crowd and differentiate yourself from your competition because they surely receive other requests. To do this, use the USP (Unique Selling Proposition) which is a marketing technique where you present the key proposition of your offer.
By now, you will understand, integrating an influencer at the heart of your digital strategy will allow you to gain notoriety, create a more effective link with your community, increase traffic to your website, attract new potential customers and increase your sales. In addition, we have given you ways to find and contact the right influencer while avoiding bad collaborations.
"94% of marketers consider influencer marketing to be effective. "(Source: blog.hubspot.fr)
We can therefore say that influencer marketing is a new form of communication that is developing and that is used more and more by brands to get closer to their target. Have you ever collaborated with an influencer? Was your experience positive? Have you seen any change since you partnered with an influencer? Do not hesitate to tell us in the comments. We can't wait to hear from you!