The newsletter: what is it really for?
Every day, we receive a large number of emails. Some are promotional emails; others exchanges between colleagues or even with our loved ones. Today, we will focus on the newsletter. The newsletter "usually designates a commercial or editorial email sent periodically to prospects or subscribed clients. The content of the newsletter can be simply composed of a selection of products or have an editorial content (an information letter in the strict sense)." As you will have understood, this is indispensable to be able to maintain a link with your clients. You must have already received more than one.
"There are more than 3.9 billion email users in the world." (source: mondedumail.com)
Creating one is really not complicated and many solutions exist to help you. You just need to use the right software, prepare a mailing list and a bit of inspiration to create captivating and relevant content for the recipient. They must be intrigued enough by the object of the email to want to open and interact with your newsletter. You are really free to vary your content and promote all aspects of your business. It's up to you to be creative and write content and promote all the aspects of your business. Up to you to be creative and to write content that is both interesting and original. But what are the real advantages of a newsletter and how do you write one easily? In this article, you will learn more about newsletters.
The newsletter is a simple and direct marketing tool. It allows you to send messages to a large number of people instantly. Through these messages, it is possible to promote a product, a service or to pass on the information. This email can be sent at any moment from anywhere. Some businesses prefer sending them monthly, others weekly or even once a year: the most important thing is to be regular. Unfortunately, you cannot create a newsletter via Hotmail, Gmail or Outlook.
Indeed, with this software you can only send 100 emails a day, there is no automation and it is not possible to see the statistics (who has opened, who has clicked…). We strongly recommend that you to use one of the following software: Mailchimp, Sendinblue, Sarbacane, etc. To receive a newsletter from a business, you must first register under the RGPD law. As the business keeps and stocks personal data, the law says that the subscriber must be informed of the identity of the sender, the purpose of the processing, the considered transmissions, etc. This inscription can be done via the welcome page of the business' website, at the end of an article or even via a contact form. Of course, the subscriber has the possibility to unsubscribe at any moment.
The aim of a newsletter is to inform its prospects and clients: you can give them information about your products, inform them about a new service, let them know about your news, etc. The interest is also to remind subscribers that your company exists and that the products or services you offer. The newsletters also aim to do "lead nurturing", you will maintain a relationship with potential clients.  
"The average open rate for emailing is 17.8%." (Source: mondedumail.com)
To get a client to sign up, you need to entice them and make them want to read the newsletter. Send them exclusive offers and encourage them to click on the call-to-action and other links that you have inserted in the email to create more incoming traffic to your website. The email will allow the recipient to differentiate you from your competitors, the objective being to retain your customers. Don't hesitate to promote your blog articles and put forward your knowledge by publishing news on your domain. Sometimes when a client refuses to buy a product or sign up for a service, it's because they didn't get enough information, so they will then do their own research and eventually sign up for your newsletter.
3. What are its advantages?
A lot of businesses use the newsletter as it has a big number of advantages such as:
Regular contact with your clients: even if the client does not respond directly to the businesses' email, they will feel close to the brand. It is a very interesting tool to retain your customers.
Increasing the traffic towards your websites: you will be able to insert links to your website within the newsletter. By adding links in strategic places, you increase your chances of seeing your number of visits increase.
Achieve your objectives more easily: if your objective is to increase the number of orders on your website, you can achieve this by encouraging your potential clients to order your products and/or services via the newsletter. Putting a special offer in place and informing your customers about it via the newsletter can be a good way to increase sales for example.
Low sending cost: it all depends on the software you use and the membership you choose, the size of the business, your content and your objectives, but generally, it stays very affordable, even for a small business.
Ease of execution: you need very few technical skills to send a newsletter as emailing software has been thought out in such a way that it is easy to use for users. All you have to do is write the text, add a couple of photos and links in the form of call-to-actions and you're done!
A real sales lever: all you need is engaging text and relevant information to convince potential clients and succeed in increasing your sales.
"78% of internet users say they prefer to receive commercial information from a brand via email." (Source: webperfect.fr)
As for everything, there are still some negative aspects and errors to avoid.
Loss of clients: if your newsletters are too redundant, uninteresting, and not very relevant, your clients may lose interest in your brand.
Loss of traffic: this will only happen if you don't put the right links at the right moment in your newsletter.
Not reaching your objectives: if your objective is to increase the number of sales of swimwear on your website but you speak about winter coats in your newsletter, you will not reach your objectives.
No going back: once your newsletter has been sent, it is impossible to make modifications. If you have committed an error, it will be impossible to modify or delete your email. Make sure you proofread it carefully and do a test before sending it to your entire list of receivers.
The risk of your emails ending up in your recipients' spam: to avoid this, only add the email addresses of individuals who have accepted to be on the list. Also, go through a dedicated newsletter software when doing bulk mailings. You should also avoid using spam words in the object or body of your newsletter. Here are a couple of examples: free, money, buy, coupon…
"82% of B2B businesses use newsletters." (source: mondedumail.com)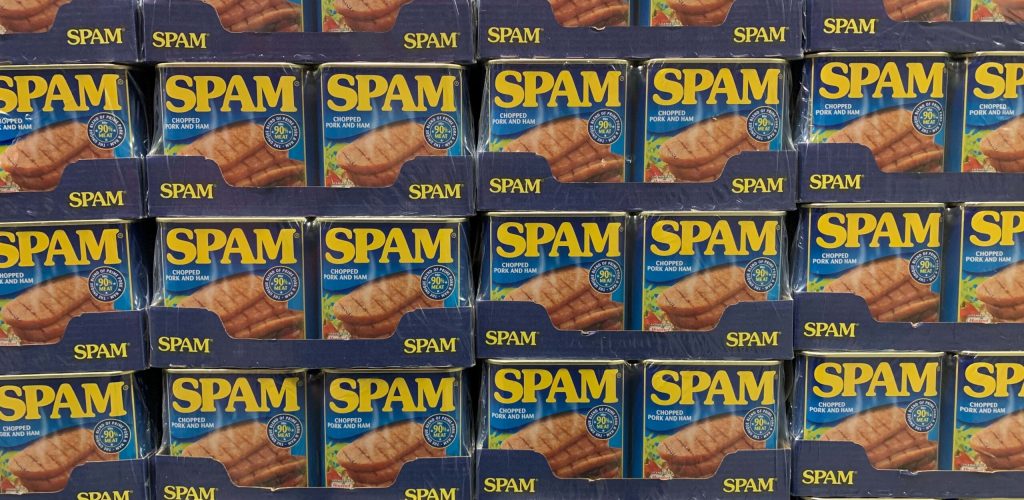 5. How to create a newsletter?
There are many steps to respect when you create a newsletter. Firstly, you need to define its purpose. Is it to promote a new product or is it an informational campaign concerning, for example, an event that your business is organising? It's up to you to choose what objective you want to put forward.
Secondly, once you have chosen your objective, you will be able to find your target. Here you will segment your database as much as possible in order to be able to send newsletters to the relevant people. The more contacts you have in your database, the more accurately you can segment it and target your clients. Thanks to this segmentation, you will be able to target your newsletters, for example, make one for the prospects and another for clients.
Then you can move on to writing: a step that is very important. The content you offer your clients should make them want to open your email. You will start by writing the object. It must be attractive and captivate the recipient's attention. It should be direct and straight to the point so that the reader has a precise idea of the offered content. Don't hesitate to add a little emoticon to brighten up the email object. Next, you can write an overview of the newsletter's content. In approximately 30 characters, you must arouse the curiosity of your reader to incite him to open your email.
Then you can finally write your message. By putting the most important information at the top of the page, you will avoid your recipients having to scroll all the way down the page to find the information that interests them. Make sure to write short paragraphs with titles and sub-headings to break up the content that you are offering and don't forget to add pictures to make the newsletter more digestible. You should show your expertise and impress your readers with all your knowledge about your domain.    
"40% of B2B marketing managers claim that emailing is a crucial strategy to their success." (Source: mondedumail.com)
Also, it is important to add call-to-action (CTA), they will incite your recipients to click on a link that will direct them towards your online shop, a landing page or even your blog. To receive a good number of clicks, it is essential to create visible call-to-action with a different colour from the rest of the text, an action verb or even at a strategic location. Also add a degree of urgency, like a limited offer, discounted places or even a free subscription. This will influence and incite your readers to click on your links.
You should also take into account the graphic conception. Thanks to newsletter software such as MailChimp, Sarbacane, Sendinblue. It is really simple to create your email. You do not even need to have any knowledge of coding. So you can very easily give your letter a nice look and feel. Templates are usually provided on this software. Keep a certain coherence in your newsletter design so that there is coherence with the website and your business graphic chart. It is important to think that a large number of your readers will open the email on their smartphones, therefore, the format should be adequate and your emails should be responsive. If your newsletter has various parts with different subjects, it might be useful to add a summary to ease your reader's navigation.  
"50% of users use mobile exclusively to consult their emails." (Source: steveaxentios.ch)
Furthermore, remember to regularly sort your mailing lists. Delete your hard bounces (undelivered emails) and spam complaints: this affects your statistics. Segment your mailing list into groups, this will optimise your open rate and allow you to target your emails more to the recipients' interests.
Finally, the last step is to send the newsletter. Before doing this, you should always verify some elements. Firstly, test the newsletter delivery and confirm that your email is not joining the SPAM of the receivers. Don't forget to test each of your links and see if they work and take you to the desired page. And above all, proofread carefully, once the email is sent you cannot make any modifications.
To conclude, a newsletter is a great marketing tool. You can reach a large number of people quickly and via one single platform. Emails are an efficient means of communication and are used by almost everyone regardless of age. Write your newsletter by adding information about your business whilst targeting the recipients according to their segment. Each business should use this means of communication, your clients will feel closer to you and your business. All the more you can be creative. As we have seen, the newsletter has a lot of positive points and is not a difficult task to grasp thanks to all the software available. It is now easy for you to target and promote your business and/or your products and services to a list of people who might be interested.
If you have not yet implemented this marketing tool, we recommend that you consider it. Thanks to the software available, it is almost a child's play. So, get out your best pen and get creative. We hope you enjoyed this article and learned more. Are you already using the newsletters? Let us know in the comments, we would be delighted to hear from you.