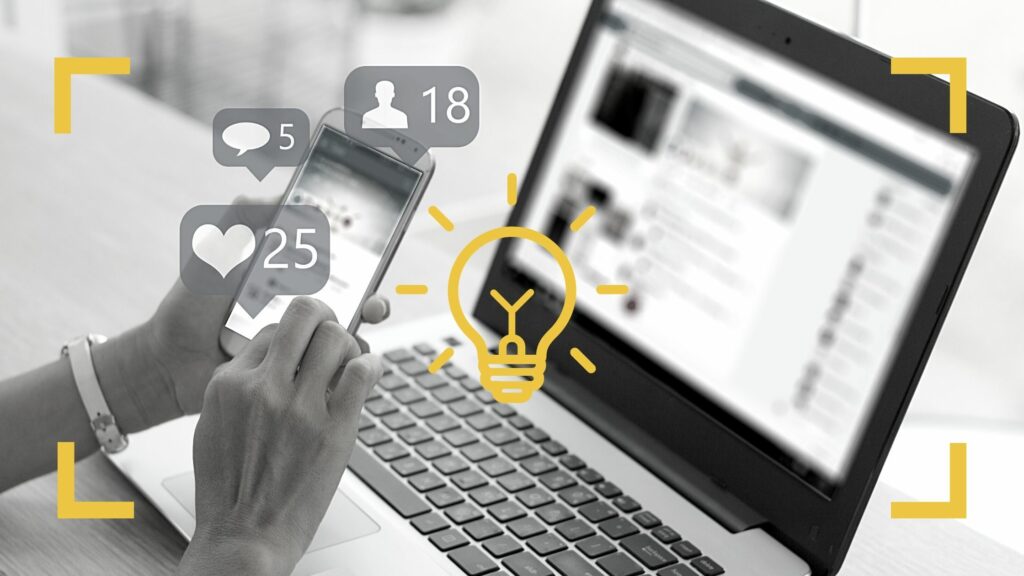 5 tips for a better visibility on social networks
In 2021, companies can no longer ignore social networks. Whether for the simple distribution of content or the promotion of goods and services, they create commitment, bring together and make communication actions viral. Do you remember the first forms of advertising? When large billboards dotted the cities to promote products or services of all kinds? Nowadays, these billboards, although they still exist, are being replaced by an effective presence on social networks. A presence that will allow you to increase your visibility and make yourself known to a new audience.
On social networks, communication is mainly visual. These platforms allow you to spontaneously distribute content to users. On a website, it is the web user who chooses the content that he or she will consume, while social networks will suggest your publications to a panel of users by taking into account various factors. For example, you decide to publish a tutorial to promote your new product: on your website, the number of views of this video will depend on the willingness of your visitors – it's their choice whether or not to watch the video. If your audience is small, success is far from being guaranteed. But don't panic! Your presence on social networks will remove this barrier as you simply share your video and let the network's algorithm do its work. The video will appear in the recommendations of users who are interested in your activities. Not convinced yet? Another reason why these tools are effective: they allow you to strengthen the bond of trust with your customers and attract prospects.
« More than 4.5 billion people now use the internet, while social media users have passed the 3.8 billion mark. » (source : wearesocial.com)
So almost half of the world's population has an account on social networks and spends hours every day on them. These platforms therefore offer more opportunities to companies, whatever their size is. In this period of health crisis, they are a real source of profit, especially with the closure of businesses. The first step in this quest for visibility is therefore to create a profile on the social network(s) where your target is present the most. And then? What are the right reactions to adopt in order to have an effective strategy on these media? Here are our 5 tips to improve your communication on social networks.
1. The only bad choice is the absence of choice
Each social network has its specificities, its language and its target audience. Depending on your activity and the type of message you want to communicate, you must therefore choose the right media for your communication. Once you have chosen the right network, you can move on to the next steps: defining your editorial line and then proceed with content development. 
Be careful, it must be adapted to the social network you have chosen! And it's not as obvious as it sounds! A good communication strategy on social networks requires a real investment in time and money. It is necessary to study the existing forms of communication on the chosen network, to produce content that follows the same line and is innovative at the same time. But don't worry, no one is asking you to become a professional from one day to the next. There are many alternatives, such as communication agencies or freelancers, who are there to help you.
When it comes to the choice of the media, it's not sufficient for you to simply know that the most used network in the world, by number of users, is Facebook, but your choice must be made according to your target. This network not only allows you to be present in the news feed of as many people as possible, but also to make a very detailed targeting for your publications. This tool helps you to produce publications that are paid for, but which reach people who are potentially interested in your services or products thanks to a calibration of the distribution parameters.
« According to a study, more than 71% of consumers are more likely to recommend a brand if they have already had a positive experience with the product on social networks.» (source : Webmarketing-com.com)
Once you have chosen your network, you can create outbound links to your web page or buttons on your publications that redirect your audience to the section they are interested in. This is called CTA (Call to Action). We can see that these calls to action are more effective if the publication is interesting. This makes it possible to engage your audience directly, to generate leads or, even better, to encourage them to make a purchase directly from your site.
If you want your communication to be effective you need to keep it up to date. You have to constantly modify your pages on social networks by regularly publishing content that will appear in the thread of people who follow you. As far as content is concerned, you can't only post news about your services, but also post information that might be interesting for your target audience. There are various possibilities, such as publishing press articles aimed at your community in order to keep them informed in the news without them having to search for information on the Internet. Be cautious, this information must be relevant to the interests of your target group but also in relation to your activities.
Another thing you can do is to regularly update your page: you can change your profile pictures and adapt your personal information if you make changes. This will allow your audience to always be up to date with your company's news and show that you remain active, even in the current crisis context! According to the media you wish to use, certain specific techniques will ensure that your page will always have more visibility and generate more leads. For example, on Instagram, you will have to create eye-catching visual content but also play with hashtags to appear as much as possible in users' searches. On Twitter, use keywords and well-thought-out hashtags for published content.
To avoid leaving your page to die, you should therefore regularly publish content but without exaggerating – the aim here is not to be too intrusive in people's news feeds. You risk having the opposite effect and appearing too invasive to your followers. You publish a bit of content every day, it reminds people that you are there, that you exist, while increasing your visibility without harassing your audience. Especially if your publications are relevant and in line with current trends, the interest and impact with your target audience will be greater! It is therefore necessary to produce content that is as relevant as it is up to date.
3. There is strength in unity
 For a small business, the best way to shine on social networks is to collaborate with big brands. Making your name appear next to a well-known company allows you to have more visibility. Collaborations with big brands can be a little treasure for your business, in the sense that their power also manages to influence people's buying decisions: they can convince their customers to buy your products.
Another way of collaborating concerns influencers: these people are known for their choices, so by collaborating with an influencer, a brand is more likely to see its target engage with it. In this regard, your engagement with the influencer must be studied in advance. It is important to choose this person carefully. The influencer, in addition to meeting your target, must be in line with your company's values. You might also think, "but influencers are only young people, we won't find the right person for a target of around 50 years old". This is not always true… the first influencers made their debut in TV commercials: every time there was an actor who appeared in a product commercial, he was an influencer. The difference here is their name: the term influencer is born with social networks, whereas for television we preferred to use the word "testimonial"; but the principle remains the same.
" Nine out of ten social network subscribers have discovered a product or brand after seeing the post of an influencer; 79% of them have visited a point of sale and 75% have bought the product or brand." (Source : iscpa-ecoles.com)
When we talk about collaboration between two brands, we rather talk about partnership: in this form of collaboration it is a mutual sponsorship. In fact, the last ones allow you to increase your visibility because they will allow you to appear more often in the news feed of your followers.
4. Take care of the content
Even though we tend to spend more and more time on social networks, we don't make the effort to read long legends full of statistics.  We must therefore seek to produce eye-catching content that catches the public's attention at first glance. You must therefore first identify and understand the expectations of your target audience and then adapt your communication. Always put yourself in your audience's shoes and ask yourself how you would react to this publication.
When we talk about content, we are talking about the entire publication: this means providing good quality images and videos as well as effective text. By the way, this content should not be too long to read or too difficult to understand. It must be accessible: therefore, favour sentences with effect that attract attention and generate interest. Do not hesitate to optimize your text with links, hashtags or words with a particular typography. All this will help you increase your visibility and engage your community. Once again, mastering social networks is not instantaneous, you need to invest some of your time to become a master in this field. Regarding the application of a particular typography, you can take advantage of some tools such as tell.wtf to highlight one or more words.
We have talked about the fact that people don't have too much time and for this reason emojis are being used more and more. They are being more and more used: they allow you to write a word or express a state of mind without wasting too much time. It is a visual element that sums up a concept and immediately helps to understand the message you want to convey. In addition, they allow you to cut and lighten your text portions.
5. Interaction, at the heart of visibility
The more interaction you can generate between your audience and your content, the more you will appear in their news feed. So how do you create this interaction? The easiest forms are comments: if a user comments on your publication, they will probably generate reactions from other users. Furthermore, if it is the page itself that responds to the user's comment, it will generate a great deal of interaction because people will see that there is a possible dialogue with the company.
To increase the interaction, you can also use your content as a starting point: if you publish videos, stories or even lives to answer any questions or doubts, you will attract a lot of attention from your audience, who will take advantage of this opportunity to talk with you. Similarly, you can carry out contests, polls or quizzes that will attract more people, make them want to participate and let their friends know about you. More visits to your page also mean more followers and therefore more visibility on the social network.
Don't be afraid, if you don't manage to have a lot of interaction with your publications right away, it's perfectly normal! First of all, people need to start getting to know you so that word-of-mouth can develop. This will allow you to maximize actions on your page. So, don't hesitate to strengthen the links with your community by encouraging them to become more involved through attractive and relevant content.
With these 5 tips, you can be sure to get properly started on social networks and acquire followers quickly. We hope that by reading our article you have discovered techniques that you can apply in your strategy. Although it may seem easy to access, communication on social networks is becoming more and more complex. In order for it to be effective, it is first necessary to monitor your market and analyze your competitors with the aim of designing an effective global digital communication strategy. There are professionals in the sector who are there to help you and give advice on how to manage your communication the best. So, ready to publish? These media are real generators of opportunities. Is your company already present on social networks? Which ones are most relevant to you for your sector? Share with us your answers in commentary, we look forward to hearing from you.