Pinterest is not the most well-known platform among the general public, but it deserves to be further explored. This platform is quite unique in its kind because it is mainly a visual app, and its purpose is to inspire its visitors thanks to photos or videos. Pinterest is a place of inspiration that gathers a wide range of interests and is filled with ideas personally curated by other users like yourself. The success of this platform relies on the fact that it is a 100% visual social network where aesthetics are carefully considered. On Pinterest, once you come across an image that interests you and you want to save it, you display or rather "pin" it to one of the boards on your profile. Indeed, the platform allows you to organize saved images into one or more boards based on specific themes or particular projects. Most users use this platform as an inspiration board or "mood board." Hence, you can understand the success this network can have in creative areas such as cooking, decoration, fashion, beauty, art, crafts, and so on.
"Over 200 billion pins are saved and over 4 billion boards are created on Pinterest." (Source: agencedesmediassociaux.com)
Of course, to promote your business on Pinterest, it is preferable to have a "visual" activity, although it is still possible to find online images to illustrate your activity. By the way, if you are looking to improve your presence on social media, read this article. It is, therefore, the ideal platform to boost the visibility of your products. You just need to ensure that your visuals are attractive enough to attract users and redirect them to your website. Pinterest can generate many new customers for your business. In this article, you will learn why you should use this platform in your digital marketing and communication strategy.
1. Why using this social network
Pinterest may not be the most widely used social network, but it still counts 500 million users, making it nonetheless very interesting to leverage. This unique platform allows you to share photos, pin them, and develop a catalog of ideas. The photos you post enable you to add a direct link to a website. For example, if you want to promote a piece of furniture, you can post a lifestyle photo featuring the furniture and include a link to the website where customers can purchase it or learn more about it if they wish. The ultimate goal of the social network was to motivate its users and inspire them.
"85% of searches are performed through the Pinterest mobile application." (Source: agencedesmediassociaux.com))
Furthermore, Pinterest has recently launched a feature that allows you to set up advertisements. Pinterest assists you in consistently increasing brand exposure, and this platform gains popularity among businesses and consumers each year. This social network is not only used to help you gain visibility but also to improve your SEO. Moreover, on this social network, the lifespan of a pin lasts for several months, compared to several minutes or days on other social media platforms. Users of this social network are interested in a specific topic.
Therefore, they will spend time searching and engaging in pinning photos about a product that they may potentially purchase in the future. You truly have the opportunity to build a connection with your community and target your buyers. A significant portion of this platform's users are in a buying mindset compared to other platforms where they are more focused on entertainment.
2. The advantages of Pinterest
Pinterest has numerous advantages that you should make use of for your business. First, all the content is in the form of images, so you will be able to showcase your products or services effectively. After all, a picture is worth a thousand words. Users can directly identify the object through the photo and imagine it in their personal world. The presented image may offer a perspective that the user hadn't initially considered. If you have a predominantly female clientele, it would be interesting to develop this network as the user base of this platform is largely female. Therefore, remember to pay attention to the aesthetics of your account. Pinterest has a very strong retention rate since individuals are highly interested in what they are searching for and generally have a goal in mind at the end of their search.
"Today, 2 million users save pins to their boards every day." (Source: agencedesmediassociaux.com)
Moreover, your Pinterest account will help you with your SEO as it will increase traffic to your website. Each click on one of your images, generates a visit to your page. You also have the option to create a business account for your company. This will allow you to access your statistics, add Rich Pins to promote a post, and much more. For those who are not familiar with Rich Pins, they are additional tools offered by Pinterest to enhance your content. For example, it will be possible to add a recipe to a food photo or directly locate places on a map based on a specific location's picture. However, this site will also allow you to showcase your skills through images and videos, such as DIY projects or before/after photos. Additionally, Pinterest has a very good retention rate because when individuals search on this social network, they are looking for something specific and can spend hours on it. Moreover, when you sponsor a post, it remains discreet and blends well with the news feed.
3. Why use Pinterest Business?
It is essential for your business to use Pinterest because it allows you to promote your products or services through a direct link to your website on each image. This platform helps potential customers find you through your photos. The first step is to create a Pinterest business account, where you will be asked for basic information about your company. Once your account is created, it's time to post your first pins. Take high-quality photos or videos and publish them in a 2:3 ratio to avoid degradation of your publication. Add your logo to your photos so that users can easily recognize your company, which will also enhance your brand image. If improving your brand image is important to you, learn more by reading this article.
"64% say that the platform helps them find new ideas, products, and services." (Source: zenuacademie.com)
On the platform, make sure to highlight what you want to promote. Then, add a text that briefly describes the article or service. Remember to post regularly and pin other creators' content. It is recommended to publish about 10 pins per day. Moreover, you can interact with other pins by sharing them or leaving your opinion. Through this, you will be able to increase the visibility of your own pins and your account. This platform allows you to share your brand's universe, enabling you to create a stronger connection with your community. Pinterest does not target the same audience as other social medias. For example, on Instagram and Facebook, a member of the social media will only see posts in their feed that interest them. Therefore, you may have more engagement on your posts. However, on Pinterest, the focus is not on the number of likes or comments. The goal is to directly generate traffic to your website. Viewing on Pinterest is more active (conversion, increased traffic, SEO) compared to other platforms that are more passive (community development, brand image).
4. Everything you need to know about Pinterest Ads
Recently, the platform launched Pinterest Ads, allowing you to promote your content. The access to Pinterest Ads is only available with a business account. When you create your campaign, you will be asked about your goals. You have three options to choose from: building brand awareness, running engagement campaigns, or driving conversions. It's important to carefully consider what you want to achieve with your campaign before selecting a goal on the platform. After that, you will give your campaign a name and set a daily or lifetime budget. The use of Pinterest Ads is quite like Facebook Ads. Using various filters such as location, age, language, and interests, you can identify your target audience. It's also possible to use specific keywords to target certain searches. To become familiar with the tool, we recommended you start with a small budget. This is also a useful technique to get an overview of how your different campaigns perform with users and then invest more in the most profitable ones.
Now, all you must do is fix the duration of your advertising campaign. There are three types of content formats you can promote: a photo, a video, or a carousel if you want to promote multiple products at once. It is also important to choose the placement of your ad; it can be published on the homepage or in search results.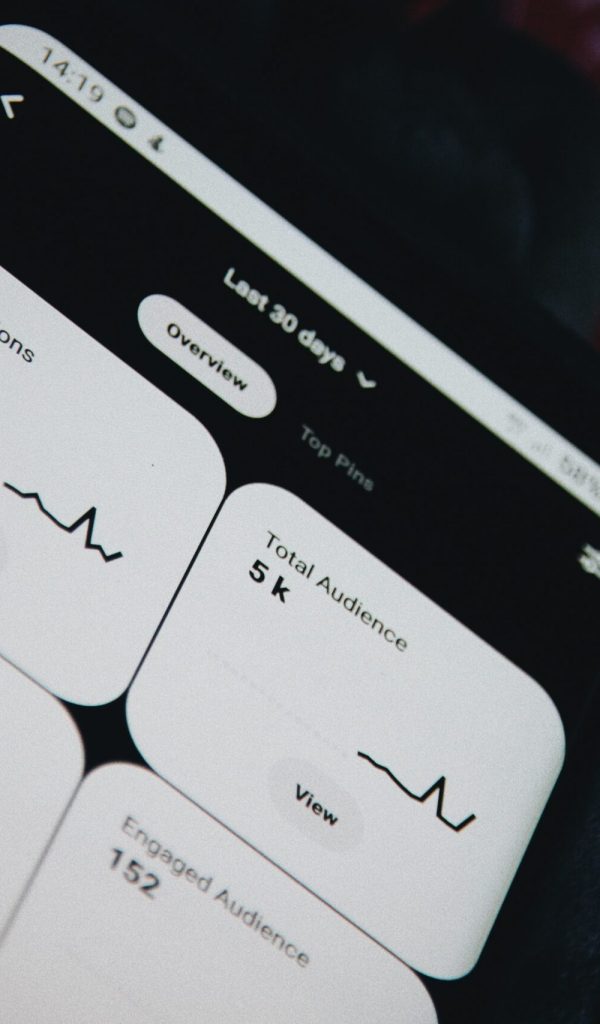 Ideally, you should publish it in both, but if you have budget constraints, prioritize the search results. The post you want to sponsor can either be a brand-new post or one that has already been published. It is advisable to use a captivating photo that also appeals to your audience. It should communicate relevant information, prompt action, and direct users to your website.
"97% of searches on Pinterest do not contain a brand name." (Source: zenuacademie.com)
Once your ad is published, you can analyze your statistics. Thanks to the pin, you can know how many people viewed, clicked, saved, and even visited your website. This will allow you to determine if your ad is effective or not. Take the time to read the statistics rather than just skimming through them to better target your audience and determine which posts work best. In response to the numbers, answer to the necessary needs and make modifications if it is necessary.
5. How to create good pins
It is essential to have visually attractive images that encourage users to click on your buttons. First, it is crucial to use the correct format, which is 600 x 900, when creating pins. This format makes them much more visible to users. Next, add text to your photo. The text should be brief and explain in a few words what your images are about and what content you are addressing in the pin. On this social network, the image is truly important. Take high-quality photos that correspond to your content to maintain a sense of consistency. You can then add your logo or website name to your visual so that users can recognize it as you, or if they are not familiar with you, discover your brand. These visuals can be created directly on the Pinterest platform or using graphic design tools such as Canva, Stencil, etc.
Moreover, when creating them, consider your brand's visual identity and typography on your website and logo. If you are not sure about how to choose your visual identity, we recommend you read this article. This way, you have a better chance of users recognizing the content and associating it with your brand, which can be beneficial for you. To conclude, make sure your pin stands out from others. Don't forget to add a call-to-action and add the link to your website to generate as much traffic as possible. If you don't have a website yet or are unsure how to proceed, don't worry, read our article where we present 5 applications to help you create your own website.
In conclusion, we can see that this platform can be highly beneficial for your business, especially if you are looking to boost your visibility and SEO. Moreover, the ability to promote your product or service while showcasing it in a specific context gives a unique advantage to this platform. Pinterest users are highly engaged in their searches and can spend hours on the platform. You can target people who are genuinely interested in your services and products, as well as a specific audience that may not be as easily found on other platforms. This can be very beneficial, especially if this audience aligns with your target market.
Pinterest is a social media with a high potential that is likely to continue growing in the coming years. It is undoubtedly the best place to develop specific content without being overshadowed by the fierce competition seen on platforms like Facebook and Instagram. The presence of influencers is also increasing, further enriching the platform with regular content. We invite you to give it a try if you haven't already! The simplest way to get an idea of the service is always to test it yourself. And you, do you use Pinterest? If so, why do you love this platform so much? Did you learn anything from reading this article? Let us know in the comments! If there are topics you would like us to cover, please feel free to share your suggestions! Also, check out our other articles for different content filled with tips and tricks to grow your business. Stay tuned for a new article coming soon!