7 softwares for perfect photos without any difficulty
For several years now, we have been taking more and more pictures, namely with the aim of publishing them on social media, but generally, before publishing anything, we tend to edit our photos trying to have the best possible rendering. For some, the use of filters is a must, for others, Adobe Photoshop is a must-have. Everyone uses a program that suits them, depending on their skills and final use. Even so, everyone has the same aim: to make their picture as aesthetically pleasing as possible and consistent with their feed, especially if this one is destined for Instagram. Today, photos play a very important role in the company's brand image. For this reason, it has become necessary to take care of your publications.   
"According to 32% of marketers, their most important effort concerns images." (Source: pixelphant.com)
In this article, we will present you with some photo editing software that you can use without any difficulty! Even if you do not have any prior knowledge in this area, these programs will allow you to enhance your photos through simple modifications. Read on if you wish to learn more about these softwares!
The fact of editing your photos is not the guarantee of a bad photographer, on the contrary, when we take a picture with our camera or even our smartphone, the colours don't always come out as we would like. That's why, subsequently, we will play with the luminosity and the saturation of the photo (these are the two principal modifications). When we speak of editing a picture, this can simply be a modification of the luminosity or a cropping. It is not necessarily a radical change where the photo changes at all, but it is the moment for you to be creative: you can convey a message through your photo by adding elements or even taking them out, you can also exaggerate on certain points if you wish.
"Content with images has approximately 94% more views than content without any images." (Source: pixelphant.com)
The editing of your images can have both an artist and aesthetic purpose, it's up to you to see what you propose is with your photo and the message you want to convey through it. It will be easier for you to have a good rendering if you start with an idea in mind, but also, thanks to the retouches, you have the possibility to bring some corrections to the picture. Generally, retouching pictures allows them to look their best. We look to put forward all the colours that have been taken and to reduce the places of overexposure. The best edits are those that are as natural as possible and where you don't get the impression that a photographer has made changes.
Fotor is an online or phone-based image editing application. Thanks to the synchronization of the program, you only need to sign up for the application, connect to your account and all your already edited photos will be on the application. You can then make modifications from wherever you want, whenever you want. This image editor, perfect for beginners as well as professionals, allows you to make a many modifications thanks to its many functionalities. A large number of tools are put at your disposal, from pure photo editing to cropping… A large number of tutorials are also available to help you have the best rendering possible.
This software also allows you to create your visuals such as posters, social media publications, a logo, and even more options… Fotor also gives you the possibility to use their models which you can modify and make your own. They also have an important stock of photos that you can exploit. And that is not all! You also have the possibility to create collages: models are also provided to enable you to do so.  This software is available for free, but if you are looking for more functionalities, a paid version exists for 7.49€ a month.any
Pixlr is accessible from a navigator or via an application on a computer or smartphone. This image editor allows you to edit your photos and create designs from scratch or from models provided by the platform. It is also possible to make collages and remove the background of an image without difficulty. Many filters and effects are available.
The application uses artificial intelligence to accelerate and revolutionize content creation. Furthermore, Pixlr offers you many tutorials, online lessons, and webinars to help you use the application correctly. This software has an image bank available where you can find photos and videos to use. Pixlr offers you two versions of the editor: either the Pixlr E or the Pixlr X, the difference between both being that the Pixlr E version has more advanced functionalities. The two editors are compatible with each other, so if you wish to start a visual with the less advanced version, Pixlr X, and finish your modifications with Pixlr E, which offers you the possibility to make more advanced changes, the platform allows you to switch from one version to the other easily. Pixlr offers the first version for free, but if you wish
Darktable is an open-source photo editor. This interface allows you to apply simple and basic modifications, such as cropping your photos or even, exposure. But you also have access to more advanced options that require a little more skill. Many operations are available, such as the possibility to play with the image's colours, make corrections, add effects, or a watermark.
"67% of clients say that the quality of the image of the product is very important when purchasing." (Source: pixelphant.com)
The platform offers you a graphics interface in which you can make more complex treatments thanks to many settings, which may confuse you at first, but also give you a great deal of creative freedom, allowing you to obtain the visual you desire. More than 50 treatment modules are offered to you. Darktable is also a "non-destructive" software, it does not modify the files during processing, so you can keep your initial image. This open-source software is completely free.
InPixio is very easy to use. This photo editor has been developed with the intention of being as simple as possible to allow you to give free rein to your creativity so that you can enhance your pictures without too much difficulty. This software gives you the possibility to take out elements on your photo, to create photomontages, but you will also be able to optimize your images. Here are some of the functionalities available in this program: the possibility of changing the sky in your picture, for example, if the one was taken at the time of the photo does not satisfy you. You can also take an element of the photo and put it on another background.
This software will also allow you to create photomontages in a few clicks: there is an option that modifies the image automatically, in less than a second, in which the quality and the colours of your images are much better. A tool to blur the image background is put at your disposal. And that is not all, a program is in place to help you change the photo's perspective, which can be useful when shooting buildings, monuments, or others. To finish, an effect that changes the colours so that your photo has a professional rendering, this functionality is called "LUT" (Look-Up Table): this one changes the colours and tones of your photo like a filter. This image editor allows you to do a lot of things in the background, but also in photomontage. If that's what you're interested in, InPixio is a good starter program. This software is sold at a price of 45€.
to edit your photos easily, create graphic designs, and photo collages. This software will allow you to do many modifications without any graphic design skills beforehand. Once again, this is a program that has been designed to be easy and allow you to get the most out of it. This platform will allow you to crop and change the size of your image, take away the background, retouch and use original effects.
Furthermore, you can make the background transparent or add texture to it. Adding text to your photo has never been simpler: a large number of styles and fonts are available to give free rein to your creativity. You will also be able to blur some parts of your photo. Frames are also available to give a vintage effect. A tool allows you to sublimate your photo by making the colours more vibrant and by adding details to enhance your image. It is also possible to add reflections to your photo to add depth to your image. An editing functionality for several photos simultaneously is available, which can be a real time-saver!
Finally, you have the possibility to add your own watermark. A free version is available but if you wish to have more options, there is a paid version at 9.99€ a month.
Canva is probably one of the most known platforms (and one that you hear about regularly). This tool has many functionalities, such as photo editing, the creation of visuals (such as posters, visiting cards, logos, etc.), and even more… You can edit your photos thanks to modifiable filters and resize them. You can also add text or make a collage. You can also add some elements like GIFs or stickers. If you wish to make a collage or graphic design, models are at your disposal to ease your task or else you can start with a blank page and let your imagination run free.
"JPEG is the most used file type by e-commerce businesses as it allows you to have a very high photo quality and a small file size." (Source: pixelphant.com) 
Canva also offers you numerous options in terms of formats, adapted to the different platforms. The software provides tutorials so that you can make the most of everything that you can do on this very fun program! You also have the possibility to create posters, mugs, invitations, CVs, and lots of other types of visuals again via this platform. Royalty-free photos are also available if you wish to use them. A very good free version is available, but if you wish to have more resources, the paid version is at the price of 9.16€ per month.
Photoshop, the famous software, is probably the most professional option: it allows you to achieve many modifications and is very advanced in terms of functionalities. Photoshop gives you the possibility to draw, write, modify, retouch, create visuals, and much more. When it comes to photo editing, you have the possibility to modify all the colours in an image and use a large number of LUTs that you can change according to your desires. Photoshop allows you to give relief to your photos, delete the background, and correct imperfections, but also, you can use digital paint brushes, paint cans, and numerous other tools… A functionality even gives the sensation of paper.
"More than 90% of the publications with the most engagement on Facebook and other social media include images." (Source: marketingcharts.com)
You have the possibility to make modifications by eliminating the imperfections in the image. Furthermore, new functionalities are offered to you (provided you pay of course) by Adobe to make the experience more fun. The first functionality is the possibility to make automatic selections that allow you to add, subtract and intersect selections. New natural filters for nice landscape pictures are also available. A functionality allowing you to share and receive live feedback on your creations via the app is also available. Without leaving the application, or downloading or sending your creation, you will be able to receive the necessary feedback via the application. The price of this software starts at 24.19€ per month.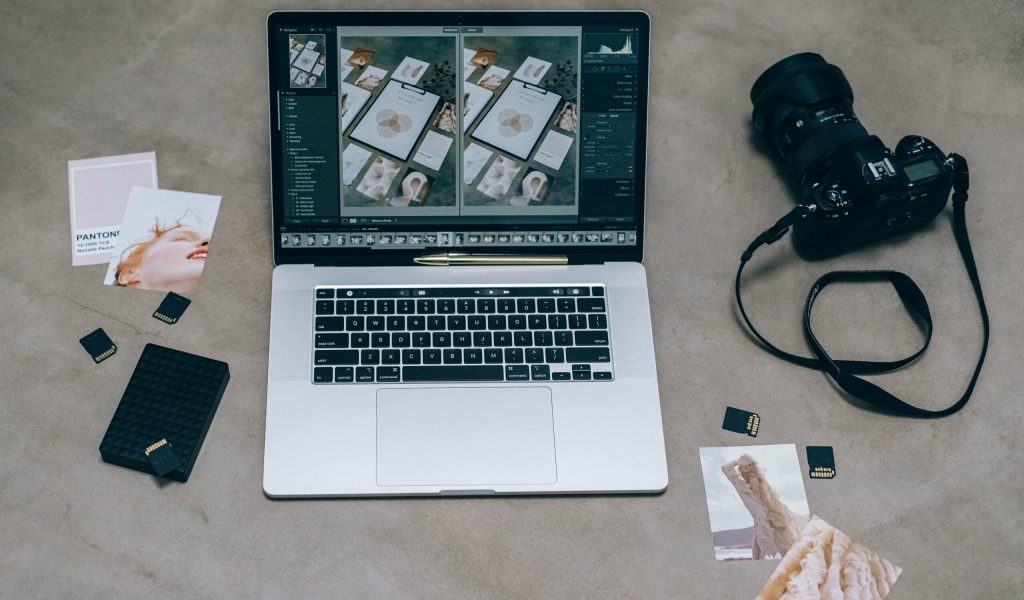 To conclude, we have presented a few software programs that are quite different from each other, but which could help you to make modifications to your photos simply and without needing a lot of prior knowledge in the domain. If you are not sure how to use these tools correctly, most of these softwares offer free tutorials. Thus, you can let your imagination and creativity run wild. Having nice pictures on social media is very important for your brand image. Having to modify them can prove to be a necessity. Having a coherent feed with your brand will help you gain followers, likes, etc… so take care of the quality of your photos. Modifying your photos does not mean that you are an incompetent photographer, on the contrary, it's often an obligatory step, even for the best of photographers.
It's up to you to see which platform best suits your abilities, expectations, and budget! Each tool that we have presented in this article can help you to realize your projects in terms of photography. Don't neglect this important step, it can be long, but it deserves a lot of attention. We hope that these softwares will help you enhance your pictures and why not obtain the feed of your dreams on social media. Do you know any other software? Which ones